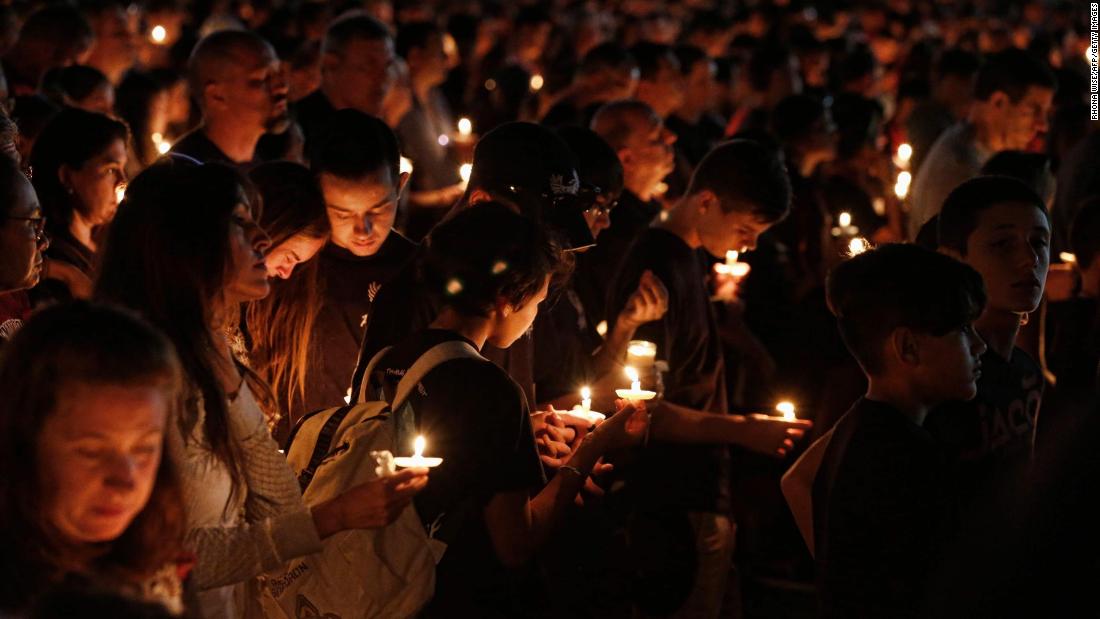 (CNN)Here is a look back at the events of 2018.
January 11 –
During a White House meeting on immigration reform,
President Donald Trump
reportedly refers to Haiti and African nations as
"shithole countries."
He reportedly says that the United States should get more people from countries like Norway.
January 12 –
The Wall Street Journal reports that President Donald Trump had an
alleged affair with a porn star named Stephanie Clifford
, aka Stormy Daniels. The newspaper states that Trump's personal attorney, Michael Cohen, arranged a $130,000 payment for a nondisclosure agreement weeks before Election Day in 2016. Cohen denies that Trump had a relationship with Clifford.
January 13 –
In Hawaii, a state emergency management worker pushes the wrong button in the emergency operation center, sending out a
false warning during a ballistic missile alert drill
. The employee thought the attack was real when he sent out the warning, according to a Federal Communications Commission report.
John Young – January 5
Jerry Van Dyke – January 5
Keith Jackson – January 12
Dolores O'Riordan – January 15
Paul Bocuse – January 20
Ursula K Le Guin – January 22
Hugh Masekela – January 23
Ingvar Kamprad – January 27
Dennis Edwards – February 1
John Mahoney – February 4
Reg E. Cathey – February 9
Vic Damone – February 11
Daryle Singletary – February 12
Emma Chambers – February 21
Nanette Fabray – February 22
Sridevi Kapoor – February 24
Cynthia Heimel – February 25
Sir Roger Bannister – March 3
David Ogden Stiers – March 3
Russ Solomon – March 4
Hubert de Givenchy – March 10
Tom Benson – March 15
Louise Slaughter – March 16
Zell Miller – March 23
Steven Bochco – April 1
Winnie Mandela – April 2
Isao Takahata – April 5
Chuck McCann – April 8
Milos Forman – April 13
R. Lee Ermey – April 15
Harry Anderson – April 16
Carl Kasell – April 17
Reid Collins – April 19
Tim Bergling "Avicii" – April 20
Verne Troyer – April 21
Larry Harvey – April 28
Margot Kidder – May 13
Tom Wolfe – May 14
Philip Roth – May 22
Jerry Maren – May 24
Alan Bean – May 26
Dwight Clark – June 4
Kate Spade – June 5
Danny Kirwan – June 8
Matt "Guitar" Murphy – June 15
Koko – June 19
Charles Krauthammer – June 21
Joe Jackson – June 27
Matt Cappotelli – June 29
Tab Hunter – July 8
Adrian Cronauer – July 18
Jonathan Gold – July 21
Sergio Marchionne – July 25
Charlotte Rae – August 5
Joël Robuchon – August 6
Robin Leach – August 24
Bill Daily – September 4
Burt Reynolds – September 6
Malcolm McCormick "Mac Miller" – September 7
Arthur Mitchell – September 19
Marty Balin – September 27
Charles Aznavour – October 1
Willie McCovey – October 31
Roy Clark – November 15
Bob McNair – November 23
Nancy Wilson – December 13
Penny Marshall – December 17
Read more: https://www.cnn.com/2018/11/19/us/2018-in-review-fast-facts/index.html